Understanding your credit card statement
A credit card can be very convenient, but it's important to review your credit card statement every month. That way you'll always know:
how much you owe
when it's due
whether there are any billing errors
and more.
What is a credit card statement?
A credit card statement is a summary of how you used your credit card during a billing period, how much you paid the previous month, what repayment you need to make, and the date your repayment must be received to avoid fees and charges. Credit card issuer will send your monthly credit card statement at least 15 days before your credit card payment due date.
To well manage your credit card payment, it's important to understand the numbers and terms on your credit card statement. It's also important to read your credit card statement carefully to spot any unauthorized transactions or billing errors.
Credit card issuer usually send your credit card statement to your registered email, otherwise you may log on to your credit card issuer's internet banking to check your online statement.
Not yet an HSBC credit cardholder?
Apply quickly so you don't miss HSBC's cashback offer worth up to VND 2.1 million!
How to read a credit card statement?
When you review your statement, you'll find several different categories of information providing detail on a variety of account features.
Account summary

The account summary gives an overview of your credit card account status. Payments and transactions which posted to your account after the billing cycle date will not reflecthere. However, if you log on to your online account, the total outstanding balance will typically include your most recent activity.
This part is usually the first section on your credit card statement because it contains some of the most important information.
1. Statement date: This is the date your monthly statement was generated. The statement date usually falls on the same day each month, and all of your posted transactions from the last statement date to the end of the next statement date will reflect on this statement. If your statement date falls on a weekend, it will then be generated on the last working day before the weekend.
2. Payment due date: The date your payment must be made to avoid any late fee and finance charges. If you don't make the minimum credit card repayment by the due date, you'll incur a late charge, which could affect your credit score.
3. Last month balance: The statement balance of your last credit card statement. This information is to help you recall and manage your spending.
4. Statement balance: The total amount of all the month's transactions plus the unpaid balance from the previous month(s) and your instalment repayment (if any). We encourage you to make full payment of your credit card's outstanding balance on repayment due date. If there is "CR" next to the amount, it means your credit card had a credit balance on the statement date, so you don't need to make any payment for this period.
Smart tip: If you're planning to make a big purchase, you can use the 0% Interest Instalment Plan at one of HSBC's partner merchants, or the 0% Instalment with low conversion fee program at your favorite stores to divide your repayment into monthly instalments.
5. Minimum Payment: This is minimum amount you are required to pay for a billing statement. You are encouraged to pay more than the credit card minimum payment to reduce your balance faster. Paying just the minimum payment each month will keep you in debt for longer and cost you more interest.
If you don't settle your credit card balance, pay less than the minimum or if your repayment is received after the due date, late charges and finance charges will be applied. If your repayment is more than 10 days late, the bank will report your late repayment status to Nation Credit Information Center of Vietnam (CIC), which makes it difficult for you to apply for credit facilities with other banks.
How is my Minimum Payment amount calculated?
Here is an example. If you have an instalment (for a smart phone) of VND2,000,000/month, and you've spent VND5,000,000 this current period, the minimum repayment will be the sum of the followings:
VND250,000, which is 5% of the outstanding balance of 5,000,000 VND
VND2,000,000, which is your monthly instalment
Any amount in excess of the credit limit incurred after last statement date
Reward/ Cashback Programme

This part is really fun. Some credit cards give you reward points. You can see how many points you've accumulated. This section provides the total amount of reward points earned in the month; total reward points balance by the end of the month and rewards points that will expire by the expiry dates. You could redeem your reward points for cashback, air miles, and e-vouchers or gift vouchers. Remember to check the validity period of reward points with your bank.

The HSBC Cash Back Credit Card gives you cash back rewards on a monthly basis. This section would show you the total amount of cash back you earned last month and the total amount of cash back we have credited this month, as well as the cash back you earned this month.

Account information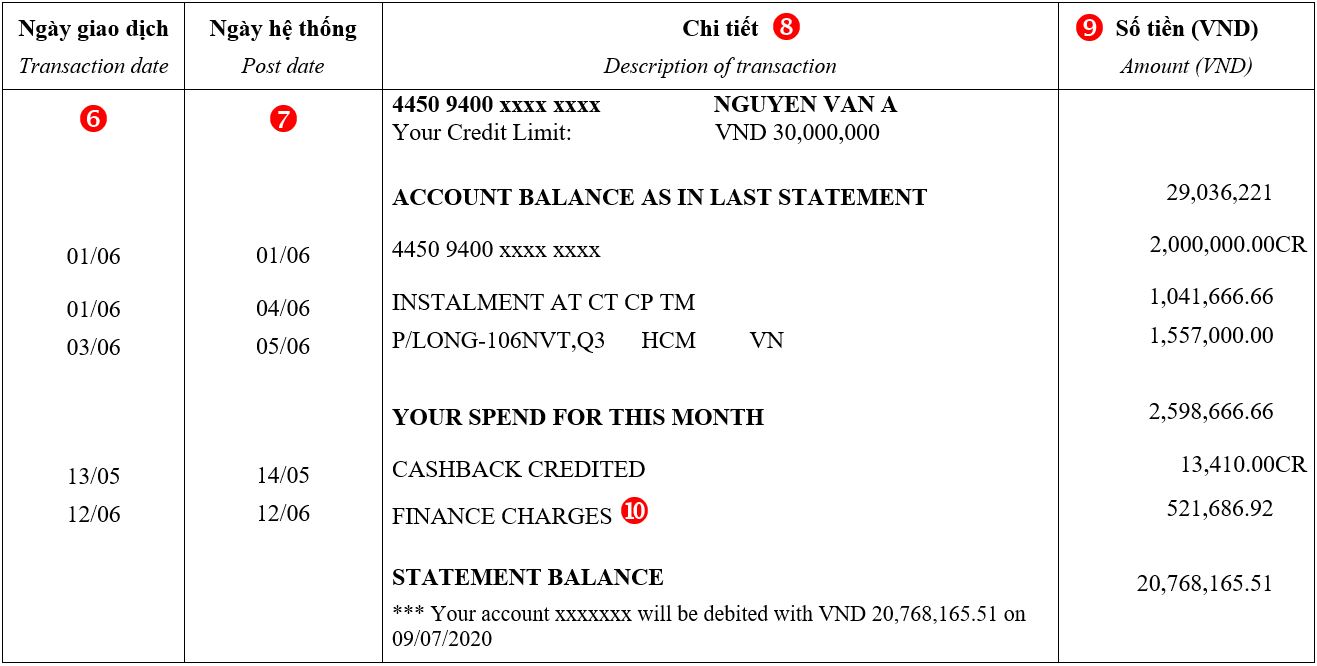 This section shows you all the purchases you've made during the billing period. At a minimum, this will include the transaction date, merchant and amount. Some issuers might include more details in the statement, such as the location of the store or a description of the type of merchant, like "pharmacy store" or "education". You'll spend the majority of your statement review here.
6. Transaction date: The date when the transaction was made.
7. Post date: The date the transaction was posted to your card account on HSBC's system.
8. Description of transaction: This section provides details of all payments, purchases, cash advances, and credits made during the statement period.
9. Amount: This lists out the transaction amount against each payment, purchase, cash advance or credit. All foreign currency transactions will be converted to VND. If there is "CR" sign next to the amount, it means there is a refund credited back to your account, like if you purchased something and returned it.
10. What is a finance charge: You will have this information if there is a cash advance or you didn't pay your entire balance by the due date of previous billing period.
How finance charges work?
If you can't pay your entire credit card statement balance on or before the payment due date, you'll be charged daily interest on your day end balance, at the agreed upon per annum interest rate.
Banks usually offer you a variety of flexible repayment options to help you pay credit card balance. You can also choose a credit card with the most suitable interest free period and finance charges.
Smart tip: You should go through your statement every month to verify each purchase. If there is any unexplainable transaction listed, someone may have used your card to make fraudulent or unauthorized transactions. You should report this immediately to your bank.
See which of our credit cards is right for you.