Ideal for fees saving and buy now pay later with 0% interest instalment plan
Break free from a boring life, crave new experience and pursue your passions with an explosive FREE COMBO of LiveFree Card now!
Get 100% Interest Rebate in the first 3 statements
Enjoy free fees and daily privileges
No annual fee on the Card ever

100% interest rebate for the first 3 statements

0% interest instalment plan without conversion fee at hunders HSBC's partners

0% interest instalment plan with low conversion fee only from 1.25% applied for spending from VND 2 millon at any merchants you want
Interest-free period of up to 55 days

0% Interest Instalment Plan at HSBC's partners
Reward programme
Earn reward points on everyday spends and redeem for attractive gifts such as cash back, annual fee, airline miles or shopping, dining, supermarket vouchers…
Complete the online application now to enjoy 100% Interest Rebate in the first 3 statements
How to apply for a Visa card online
What you should know about credit cards
Useful information and related documents of credit cards
Frequently asked questions
What can I do with an HSBC credit card?
I would like to apply for a credit card but I cannot provide sufficient supporting documents to show income proof, what should I do?
What is my credit limit if I have been approved for a credit card?
I have successfully applied for a credit card. May I increase my credit limit to cater for my spending need, or do you adjust my limit from time to time?
Explore more credit card features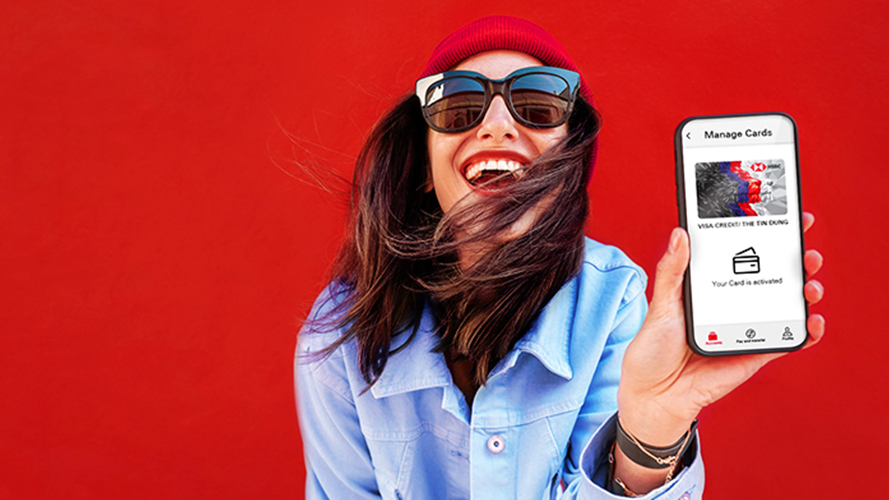 How to activate your HSBC credit card
It's quick and easy to activate your card using the HSBC Vietnam app.
Online Bill Payment
Don't miss a chance to experience the new online mobile top up and monthly auto bill payment feature on our HSBC Vietnam app today!
Supplementary Card
Spread your love – share and enjoy the same privileges, conveniences and rewards with your loved ones.
Contactless payment
Enjoy hassle-free spending experience with a simple tap of your HSBC Credit Card.
Samsung Pay
Experience an easy, fast and secure mobile payment service and enjoy great benefits dedicated for Credit cardholders.
3D Secure - SMS OTP
Experience a more convenient and secured way for HSBC card online transactions with SMS OTP.